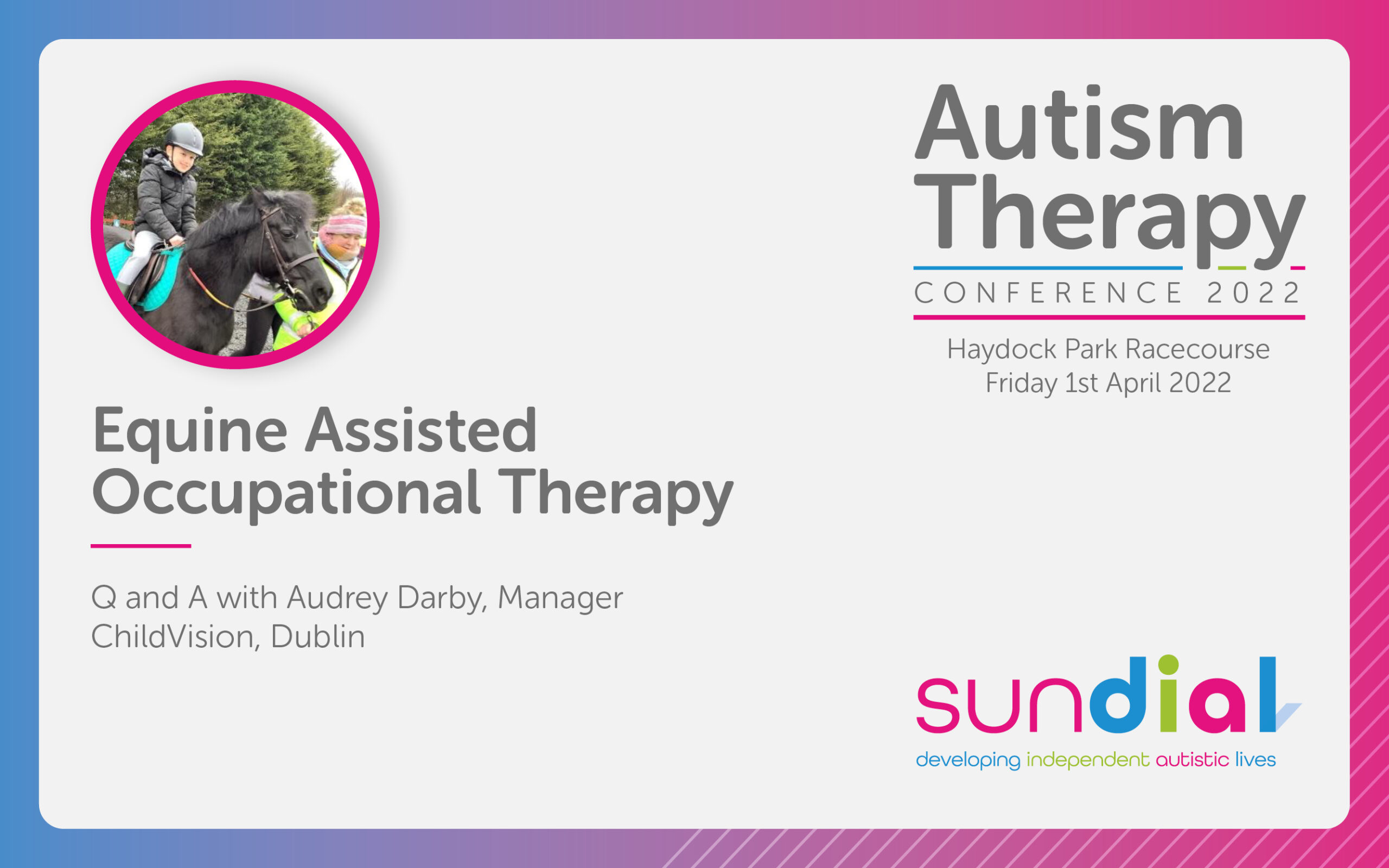 22 Mar

Equine Assisted Occupational Therapy – Working in partnership with horses

We are always keen to find out about the whole range of therapies available to support our students and in January of 2022 our RISE1 class visited the Beacons Country park and were delighted to get involved at the stables and helped clean some hay and get to know the horses a bit better. We thought this would be a good starting point to introduce our readers to the world of Equine Assisted Therapy and who better to speak to than Audrey Darby, Manager, from ChildVision based in Dublin.

We interviewed Audrey in early March 2022 to find out more.
What is a Equine Assisted OT?
Equine Assisted OT is exactly what it says on the tin. It is occupational therapy provided with the assistance of horses! Instead of working in a classroom or therapy gym, the Occupational Therapy (OT) treatment takes place in an equine setting – an arena, a countryside area, a working stables. Horses have a unique ability to connect with people, and their movement is unparalleled in supporting normal tone and movement, and also regulation for the sensory systems.
How has it worked well for you in your professional practice?
Working in partnership with horses has been transformational to the therapy I provide, and to my practice. The equine environment is full of incidental and easily graded opportunities to support development, from mucking out, and carrying water buckets, to experiencing equine movement. The environment is non- clinical and so much fun. Children love coming to sessions and have no idea they are working hard all the time they are there! We have sessions for all levels of need; 1:1 with complex needs and group sessions with social interaction and competitiveness! It is by far and away the most versatile treatment modality I have experienced throughout my career.
How long have you been involved with Equine Assisted OT ?
Full time for 6 years, but I have been dabbling in it for about 12 years. It took me a while to set up my full-time practice but the wait was worth it!
How did you first find out about it and how long have you been working in the field?
I was at a conference and there was a talk given by a physiotherapist about Hippotherapy. That is the term for an allied health professional incorporating equine movement into their treatment modality. I had a eureka moment! We had horses in my work and I could just see how I too could use them to provide the much needed input that the visually impaired and multi disabled children that I worked with so badly needed. Imagine…. A child with little or no vision in a wheelchair with so little external motivation or ability to move independently being on a horse. The freedom. The intense sensory input that could not be replicated on a therapy ball. And so I started. With a small caseload just trying it out to see how effective it was. And the results were astonishing. A little blind and non verbal autistic boy said his first word on the horse to tell him to 'go!'. So many stories. So many beautiful and touching moments. And this continues to this day, 13 years later, when myself, and the equine team see up to 100 children a week.
Has anything heart-warming or memorable ever happened whilst teaching Equine Assisted OT?
Every day there are touching moments. A child with no vision of communication who hugs the horse. A really dysregulated child becoming calm and content, children putting bows in the mane of their favourite pony, children becoming verbal when they are on the horse, children getting on for the first time and experiencing the magic of being on a horse, children bringing some of their lunch to share with their horse …… The list is endless. Parents are so appreciative of the joy brought to their children through being around and being on horses. It brings joy and happiness on so many levels. And I am lucky enough to witness it daily.
Can you tell us about your biggest success?
Oh there are so many! To pick just one…..!
Sean is an 11 year old boy with a diagnosis of anxiety and hyper mobile joints. He started with us when he was 9 and was at a low point- medical professionals were recommending medication but his parents were reluctant to go there. He had a shuffling gait and held his head low. When spoken to it would take him up to 10 seconds to process and formulate a response. He was withdrawn and seemed sad all the time. Life was hugely overwhelming for him. He was in mainstream school but struggling.
Over the past two years Sean has attended regularly. We have progressed from 1:1 gentle sessions on the horse, often back ridden for emotional and physical support, all the way to now. Now he is in a group of three where they go for a walk on the horses in the field, then play obstacle courses against the clock. They trot and then dismount, run over stepping stones, go over and under jumps and race to the mounting block to remount. Sean has a sensory diet for school and has managed to focus and attend adequately to keep up academically. He is participating in group conversations with minimal effort. Due to the effect of the regulation, his anxiety has decreased dramatically to the point where is managing it himself without additional support. Go Sean!
Is it suitable for everyone?
Totally! I specialise in children with physical, sensory and emotional needs, however I am involved with international groups of therapists working in this environment. From children to adults with learning disabilities, or post covid syndromes, neurological disorders, mental health issues, there is something in it for everyone. Even those of us who don't have clinical diagnoses!
The unique movement of the horse causes endorphins to release in our bodies giving us that happy feel good feeling. Hence it is almost addictive to those of us who are fortunate enough to experience it on a regular basis.
Notes
You can find out more about Equine Assisted Occupational Therapy at our Sundial Autism Therapy Conference which takes place on 1st April 2022 at Haydock Park Racecouse and will feature Keynote speakers, including Temple Grandin, Susan Allen, Dr Jill Bradshaw, Biza Stenfert Kroese as well as workshops and Autism in Racing's Bobby Beevers.
Tickets are available from Eventbrite